You can find tons of men's hair styling products on the market today, but which on should you pick?
The product you decide to use has a great effect on how your hair style turns out — for better or worse. You want to select one that's both appropriate for your hair type and the hair style you're going for.
When you do, it can turn a "meh" hairstyle into a hairstyle that looks awesome on you.
So if you want to know what hair product would be perfect for you, you need to answer a few questions.
Note: This article may contain affiliate links. That means if you click a link and purchase something, I earn a small commission, at no additional cost to you. All opinions are my own.
What Hair Product Should You Use? Take the Quiz:
To determine which hair product you should use, you should know the answer to the following questions. If you don't know the answers, the rest of this article will help you.
1) What is your hair type?
Do you have straight, wavy, curly (coiled), or kinky hair? Your hair type plays a huge part in what kind of product will best serve your needs.
If you already know your hair type, you can jump to specific recommendations for your hair type here:
If you don't know your hair type, you can find out which hair type you have here.
2) What hair style do you prefer?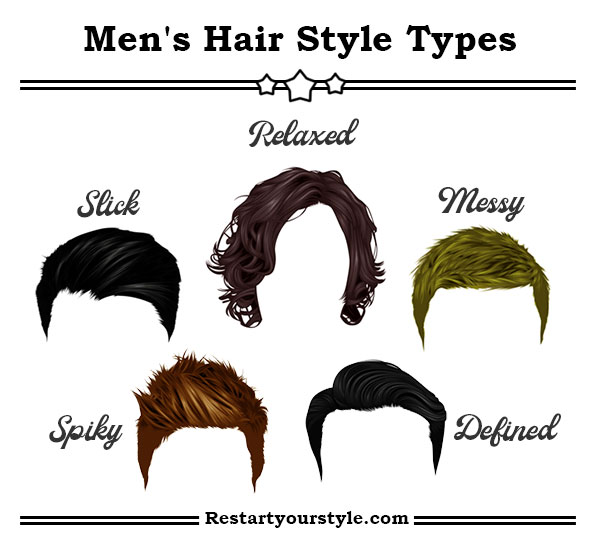 Do you prefer your hair to be relaxed, slick, defined, spiky, or messy? The hair product you choose should help you to achieve the look that you're going for.
Which product is best for your hair style depends largely on two factors: the hold and the shine.
3) How much hold do you want your hair product to have?
The hold determines how firmly the product keeps your hair in place. Products with a strong hold will keep your hair style firmly in position, but also tend to make your hair feel stiff. Products with a light hold will help you shape your hair style but still keep it pliable, so you can re-style it throughout the day.
For spiky, defined and slick hair styles, you want to opt for hair products with a strong hold. For relaxed and messy looks, you should go for a light hold.
4) How much shine do you want the hair product to give?
The shine determines how shiny the product makes your hair look. High-shine products will give a wet look to your hair (which makes them perfect for slick hair styles), while low shine (a.k.a. matte) products will give you a more natural look.
The Four Men's Hair Types and Their Characteristics
Before I can recommend you specific styling products, you'll need to understand your hair type.
Fortunately, you'll already have a good idea what type of hair is on your head. (It's been there all your life, after all.)
So these are the four types of hair:
Straight
Wavy
Curly
Kinky
Below you'll find an explanation of each of these, along with general recommendations.
1. Straight Hair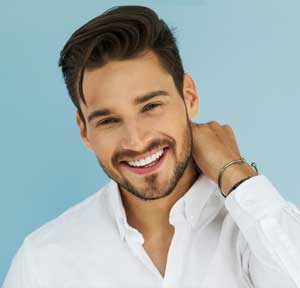 Straight hair is exactly that. Straight. The strands don't grow curved or bent, but exactly linear, with almost no wave pattern at all.
The main downside of straight hair is that it typically has little volume. Without applying a product, it often looks flat and lifeless.
Lucky for you though, it's easiest hair type to style and maintain.
The way to determine if your hair is truly straight can only be done with a length of about three inches. That's going to let you know if there is any wave or curl to your hair at all.
If it falls three inches over your forehead and it still appears stick straight, then you definitely have this hair type.
Hair Products to Try:
Hairstyle recommendations: The world is your oyster, my friend. You can take anything from short to long hair styles. Medium and long haircuts will give you some more volume to work with when styling, but short haircuts will be easy to shape into many different styles for you.
2: Wavy Hair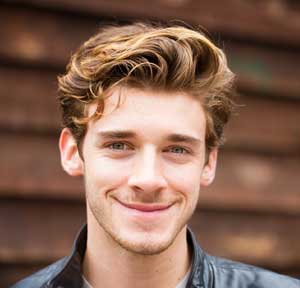 Wavy hair has bends and curves in their strands that create a wavy pattern, but the hair does not quite form coils.
You probably need at least three inches of hair to determine this, as it will be indistinguishable from straight hair at shorter lengths. If, at three inches, it springs into a curve, you have wavy hair.
Like straight hair, this hair type is easy to style, but it has more natural volume than straight hair.
The biggest downside with wavy hair is frizz. If you live in a humid environment or you tend to sweat a lot, you might experience frizzy hair at times. With the right hair products though, you can tame your frizz and sport a proper lion's mane.
Hair Products to Try:
Hairstyle Recommendations: Like with straight hair, you can choose from short to long hair styles and everything in between. It can look sharp no matter the length. Shorter hairstyles will have a bit more texture to them, but wavy hair shines at medium to longer lengths due to its natural wave pattern.
3: Curly (Coiled) Hair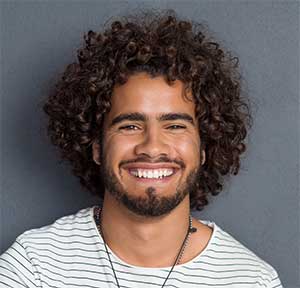 When you have curly hair, your strands form coils about as soon as they sprout from your scalp. You won't have to grow your hair very long to notice its pattern.
This hair type can be a dream or a nightmare to work with.
The biggest problem with curly hair is that most guys don't understand how to care for it, which can turn their hair into a giant puffball or frizzy mess. It's a difficult hair type to maintain.
On the plus-side, if you care for them right, growing out your curls can look quite cool.
You have to either embrace the curls or cut it super short. If you do grow out your curls, you have to be careful what products you use. Only use a hair dryer if it has a diffuser attached to the nozzle, and only use a wide-tooth comb or your fingers to style your hair. Never use a regular or fine-tooth comb, as they will turn your hair into a frizzy disaster.
Hair Products to Try:
Hairstyle Recommendations: As mentioned before, you can keep your hair short if you don't want the hassle, but if you want to rock those curls, go for a medium-length. If you are patient and are willing to go through a phase where your hair looks rather awkward, shoulder-length hair can also look awesome on curly men. 
4. Kinky (Afro-Textured) Hair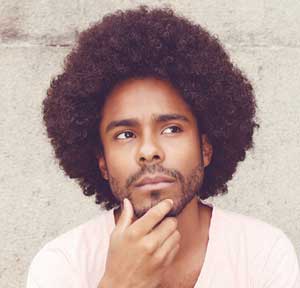 Kinky hair is most commonly found on dark-skinned men (though it sometimes occurs among other races as well). With kinky hair, the length needed for the hair to curl is so short, that you couldn't identify individual curls from a short distance. The curls just blend together into one big mass.
Kinky hair will give you the most volume out of all the hair types. In fact, while the other hair types tend to grow downwards, kinky hair tends to grow outwards. It can usually stand upright even without adding any product.
Hair Products to Try:
Hairstyle recommendations: With kinky hair, you can rock an epic afro, or keep it short and clipped. The best part about kinky hair, is that it can be shapes into all kinds of hair styles with a hair clipper. 
Use the Men's Hair Styling Products That Work Best for YOU
Keep in mind with any hair product, usually less is more. The amount you will use will depend on the product and thickness of your hair.
Ideally you want to find only ONE styling product that creates the effect you desire. But if you have to stretch that to two different products used together for best results — e.g. wax in combination with hair spray — that's okay. But definitely no more than two.
And remember that less is more when it comes to hair products. Just run a small wad of product between your hands, and then apply carefully with the fingers from back to front.
Seriously. You don't want to be known as scary hair product guy with hair that looks unnatural and stiff. 
Here's a breakdown of each type of hair product on the market:
Hair Product #1: Wax
Most suitable for: Straight and wavy hair. Short and medium-length hairstyles.
Hair wax is a product that adds hold to your hair without giving it a wet look. If you're going for a messy bed-head look, wax is your best option. Though, that doesn't mean it can't also be used for more structured styles.
The great thing about wax is that it has a strong hold, but remains pliable, which means you can reshape your hair throughout the day.
Caught a gust of wing and your hair is all messed up? No worries, you can check your reflection in a window and fix it.
The downside is that waxes tend to be oily products, which makes them incredibly hard to get out of your hair.
I also wouldn't recommend wax for curly or kinky hair, as it tend to create clumps when applied to those hair types.
---
Hair Product #2: Pomade
Most suitable for: Straight, curly and kinky hair. Short and medium-length hairstyles.
Pomades are a great option if you're going for neat and slick hairstyle, like that 50's combed-back look.
Like wax, pomades are quite pliable, which means you can reshape your hair throughout the day.
Unlike wax though, it won't form clumps when applied to curly or kinky hair.
It's typically a high-shine product, but its hold differs depending on the brand. You can get pomades that are light-hold, medium-hold or even stronger holds.
---
Hair Product #3: Mousse
Most suitable for: Wavy, coiled and kinky hair. Medium-length and long hairstyles.
Hair mousse is a whipped styling foam that adds body, shine and control to your hair. It's a great product to use for defining your curls.
This is one product that can actually work well when combined with other types of product. You can use the mousse to create more volume, and finish with a hairspray or paste to strengthen the hold.
While it can be applied to most hair-types and length, it's most useful for curly hair types and longer lengths.
---
Hair Product #4: Styling Cream
Most suitable for: Wavy, curly and kinky hair. All hair lengths.
Styling creams are your go-to option if you're looking to control frizzy hair. You can also use it to weigh down longer hair if your hair doesn't naturally hang down as much as you like.
Creams have a super-light hold (almost no hold, really) so they keep the hair soft and flexible, unlike waxes and gels that keep the hair firmly in place. This aspect makes creams particularly useful for longer hair styles.
For shorter and medium-length hair styles, creams usually work best as a pre-styling product, as it won't keep the hair as firmly in place as other products do.
Recommended Styling Cream for Kinky Hair: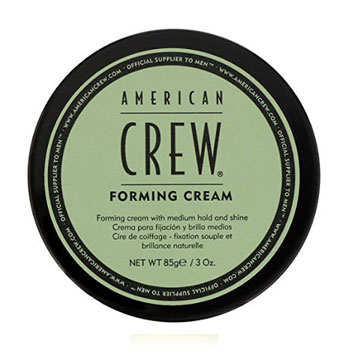 ---
Hair Product #5: Styling Gel
Most suitable for: Short or medium hair. Any thickness. Fine hair needs to use less. 
Hair gels are typically strong-hold and high-shine products, especially compared to other products on this list. The hold, however, differs between products.
So you can find hair gels that have a lighter hold, but the hold won't be quite as light as, say, a styling cream.
Gels are all about control as they will keep your hair in place all day. But the downside is that you can't run your fingers through your hair as it can break the hold and mess everything up.
Your hair won't be as easily mussed up by wind as with other products on this list, but if it does get mussed up, you wont be able to reshape your hair.
Recommended Styling Gel for Kinky Hair: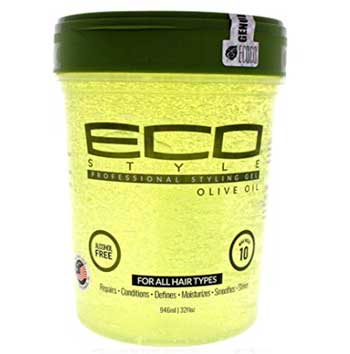 Eco Styler Olive Oil Styling Gel
---
Hair Product #5: Hair Spray
Most suitable for: Straight and wavy hair. All hair lengths.
Hair spray is a finishing-touch product that you can use after styling your hair to keep everything in place. That means it's commonly used in combination with another product.
Once your hair looks the way you want it, spray from about a foot away to cover your hair with a protective layer.
If you find your hair often getting mussed up by wind or humid weather, hairspray may be the answer you're looking for.
Its hold can range from light to very strong, and which one is best depends on what you want.
If you want to reduce frizzing but still have natural movement of the hair, opt for a lighter hold. If you want to keep the hair firmly in place throughout the day, opt for a stronger hold. Just be aware that the stronger the hold, the more stiff your hair will feel.
Recommended Strong Hold Hair Spray: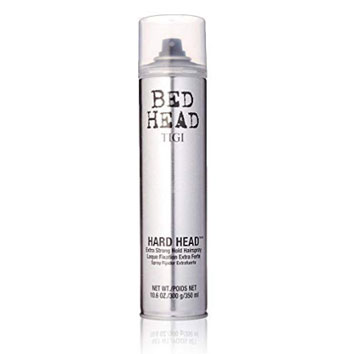 ---
Use this Men's Hair Styling Products Guide to Get Your Perfect Look
Understanding your hair type is key to choosing the best men's hair styling products for you. Knowing what hair style you want, how much hold and shine it needs, is second.
Use this guide to find the perfect products for your specific want and needs.
Did You Find That Useful? Then Check This Out…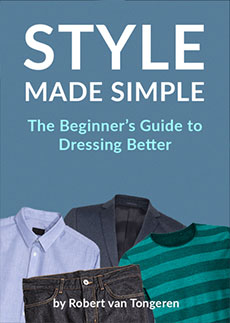 I wrote a men's style guide that simplifies the art of dressing well, focuses on what matters, and takes you through it one step at a time. Enter your e-mail below and you'll receive three free chapters, which will show you:
Robert

Source link