Every Christmas the question is; "What should I make for Bonnie?" Bonnie is my bride of 44 years. She already has her choice of thousands of Pendants, and hundreds of beaded treasures she makes for her Etsy site. I have to start thinking way ahead, when it comes to a special Christmas gift for the jewelry maker's wife.
While cutting, from my large selection of rocks and minerals, I will usually discover a very special piece of material (or several), worthy for a Lapidary Artist's wife to wear.
Bonnie enjoys wearing simple, yet elegant, pendants; not too showy, but noticeable, none the less. She has a massive collection of "jewelry shirts". These shirts are usually solid colors that can show off a Pendant, or a set of beads with a wide variety of colors and patterns.
This past summer's shop work first produced a very special Petoskey Stone cabochon. Sometimes Michigan's State Stone is surprising in its multiple variety of colorations, patterns, and uniqueness. The quality of a Petoskey Stone is very subjective, but in general high quality Petoskey Stones are mud free, solid, with a clear patterns.
The primary thing I look for in a fine Petoskey Stone is clarity of pattern. It is not very common to find a solid Petoskey Stone, showing perfectly clear patterns within all the individual Polyps. In most cases the "eyes" of the Polyps, (that are actually mouths), are filled with mud to some extent. This mud can seldom be removed. I usually do not use Muddy Petoskey Stones, but in the case of this stone the "mud" was a good thing, and added some character to a stone. It was a case where Black mud is good.
In the Petoskey Stone I chose for Bonnie's Pendant; the mouths were filled with Petroleum-rich material, making them almost solid black, BUT the rest of the fossil displayed beautiful, perfectly clear Calcification. The black "Eyes" were so striking; so stunning; that I immediately knew I had the start of a spectacular piece of jewelry. I imagined one of the little Polyps talking to its neighbor; "Hey Harry, you should try some of this grease, it's really tasty".
The darkness of a Petoskey Stone, is indicative of the percentage of Petroleum that permeated into the Petoskey Stone during Calcification. Darker Petoskey Stone exude a strong petroleum odor when they are cut. The odor this stone emitted was strong in its a petroleum scent. Petroleum-rich, dark Petoskey Stones also take a better polish than light colored Petoskey Stones, simply because of this petroleum content. This cabochon took an excellent glass-like finish.. OK, I hid this stone from prying eyes for a few months. Hiding any stone in my shop is a dangerous proposition. Fortunately, I was lucid enough to keep track of it for a few months.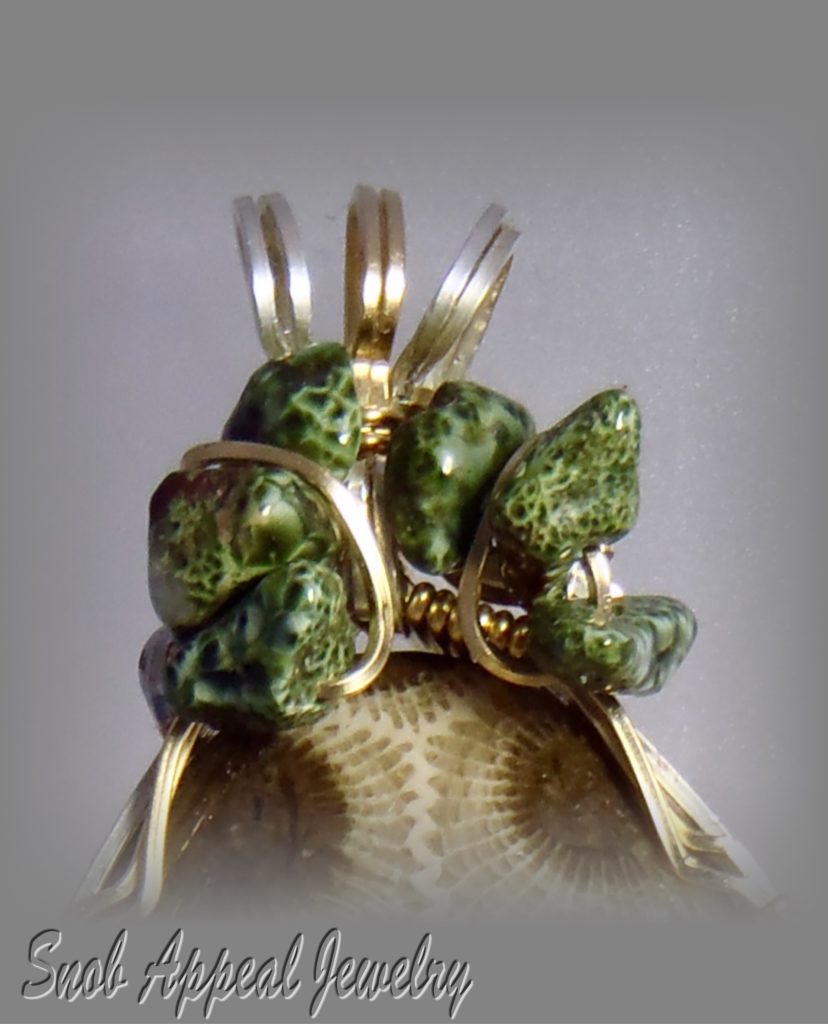 Do I just want to wrap a Petoskey Stone and call it good? NO WAY! A jewelry showpiece, for a special lady, needs more bling than that. Michigan's State Stone (the Petoskey Stone) needed to be accompanied by Michigan's State Gemstone (The Isle Royal Greenstone). Several Greenstone, from a decades old collection actually from Isle Royale, were polished and drilled for the top of this pendant. I make them on a bead drilling machine. I admit, drilling Greenstones is a bit extravagant.
The bottom segment of Bonnie's Christmas Pendant involved Drilling Datolite Beads (from one of the Isle Royale Mines behind the Houghton Walmart) and Unakite beads, (made from Lake Superior beach material) were also added to the pendant mix. I just kept piling on the goodness.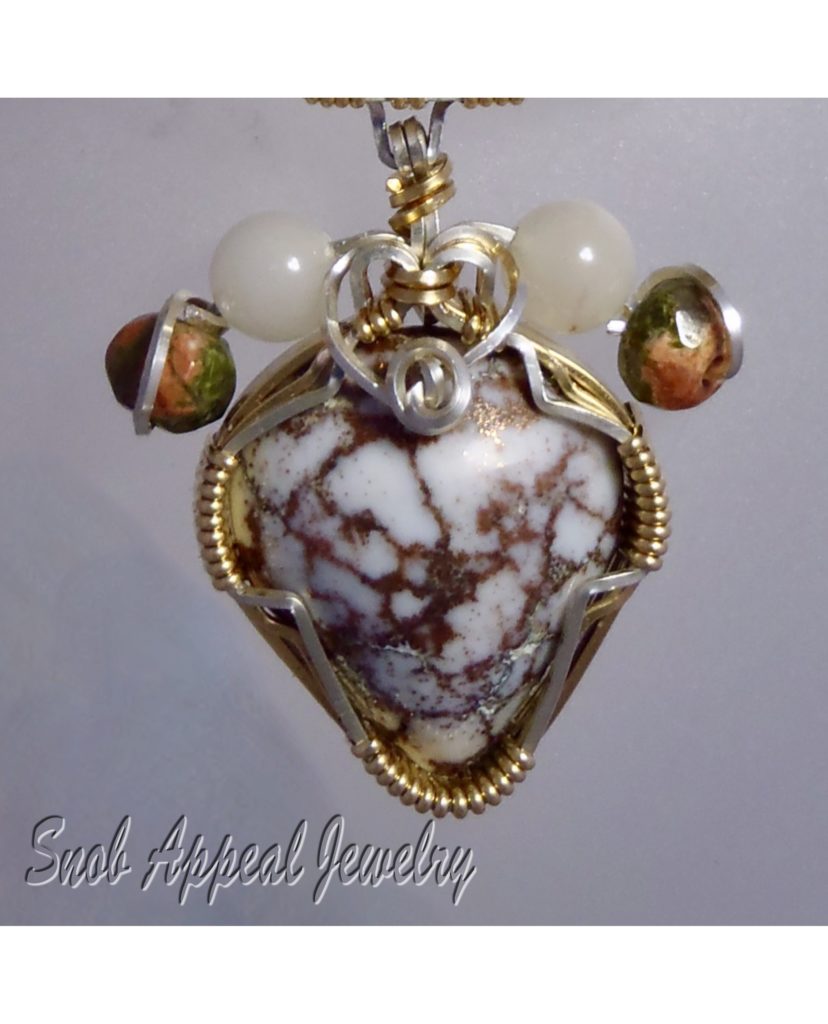 The last stone added was a Copper rich Datolite. It was a gorgeous white Datolite with lightning-like streaks of Copper exploding within the Gemstone. Like the Petoskey Stone, this special Datolite told me it wanted to be part of this project. The Datolite was shaped to add as a second component to the Pendant. Bonnie is very fond of copper in her Datolite. The Lightning Datolite swings freely from the bottom of the Petoskey Stone. This configuration is one of my signature features in many of my pendants.
My choice of gold and silver wire allows this pendant to be worn with any color chain or cord.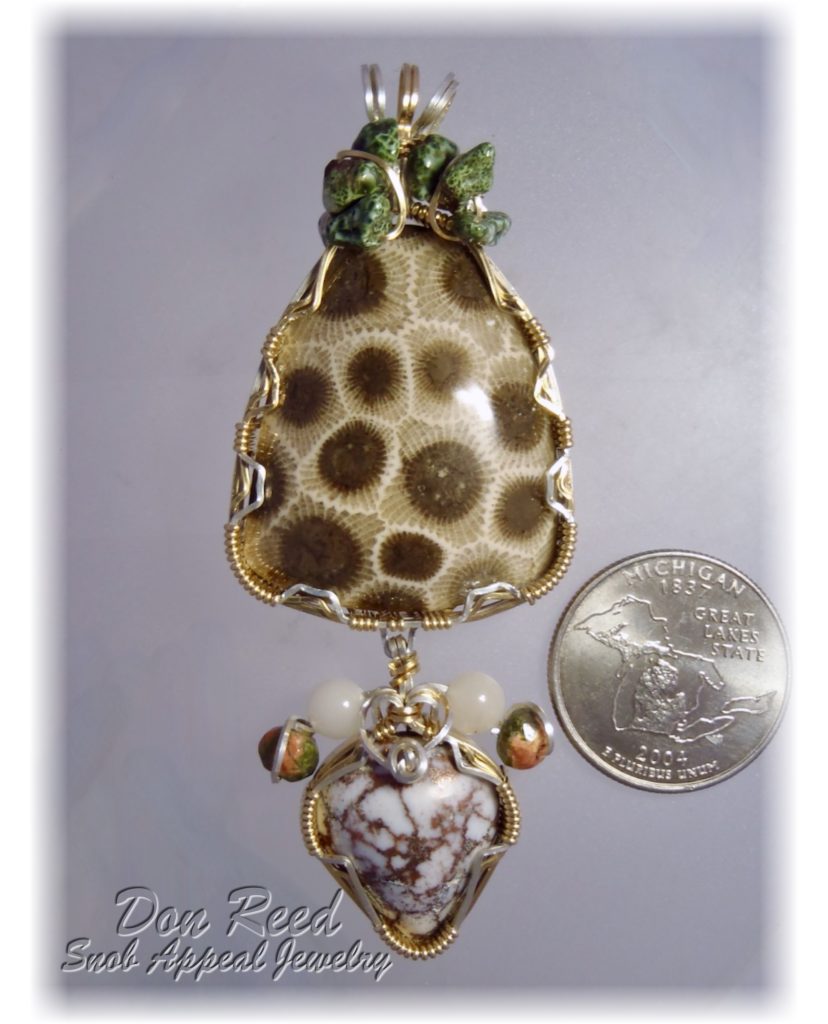 teamreed

Source link