Published April 29, 2022
Gifts She'll Adore
In the U.S., Mother's Day dates back to the 19th century in the years before the Civil War. A woman named Ann Reeves Jarvis helped launch a Mother's Day Work Club to teach local women how to properly take care of their children. These clubs later took on a key role in unifying women across the country during the Civil War. In 1868, Jarvis organized "Mothers' Friendship Day" during which mothers joined with former Union and Confederate soldiers to foster reconciliation.
The Abolitionist and Suffragette, Julia Ward Howe wrote the "Mother's Day Proclamation" in 1870 asking mothers to unite in promoting world peace. Following her mother's death in 1905, Ann Reeves Jarvis invented a Mother's Day to honor the sacrifice mothers have made for their children throughout the centuries. She argued that American holidays were based on celebrating male achievements and she launched a huge campaign to adopt a special day to honor mothers. By 1912, Mother's Day had been adopted by many states. In 1914, President Woodrow Wilson signed a measure officially adopting Mother's Day as the second Sunday in May.
Fast forward to the present day. Did you know that more phone calls are placed on Mother's Day than on any other day of the year? We think you can do a lot better than that, though. A phone call is nice, but nothing beats a thoughtful gift.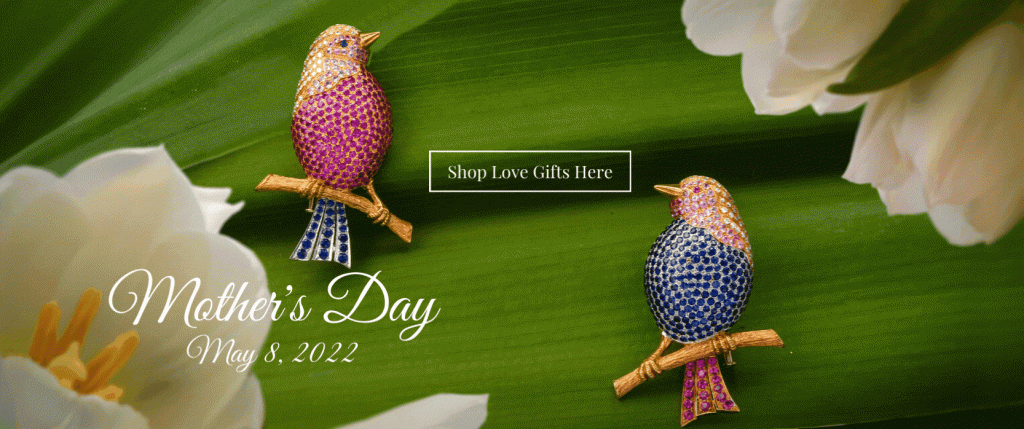 Let us suggest a present for her this year that she will always treasure. Dover carries a special collection of jewelry that will express your love and gratitude for everything she has done for you in your life.
Does she like diamond or gemstone animal jewelry? Does she have an eclectic taste in jewelry? You will know which one of these diamond and gemstone brooches expressed that lively personality you love so much:
This piece is also on sale. It is an exceptional vintage hand-made charm bracelet. It features a twisted gold rope bracelet and five solid gold charms – a chest, a fish, a crown, a globe and a carriage, complete with rotating wheels. We think this is an exquisite Mother's Day gift.
If you are still undecided, there are plenty of options on our site doverjewelry.com. Our customer service personnel can also help with suggestions. Please reach out to us today and accept our Complimentary Shipping for Mother's Day!
From all of us at Dover, we wish you the happiest Mother's Day ever!