Today is the first day of our annual Sitewide Spring Sale! We're so excited to have many of our sellers participate by creating a shared coupon code. Add SpringSale2022 to your cart to see if the item you are purchasing qualifies!
It's a little chilly in Seattle this week, but warm weather is just around the corner. That makes this the perfect time to shop from the comfort of your home, and at a discount.
You can start by searching your favorite seller's booth or by visiting our Bonanza Coupons and Deals page to see all items currently on sale.
Use "SpringSale2022" as your coupon code
All of our sellers have been invited to create a coupon with a customized discount for this week, May 4th – 11th. Since the same discount code (SpringSale2022) is shared by all participating sellers, you can add it to your cart when purchasing from any seller to see if they are offering a discount. (It's not too late to create a coupon if you haven't yet!)
How do I pay if I don't have a PayPal account?
Our most asked question from buyers checking out is "Can I pay with a credit card?" The answer is YES! You can click on the PayPal payment option and choose the guest checkout option to use your debit or credit card without logging into a PayPal account.
Troubleshooting common checkout issues 
How to check out
1. Add item(s) to your cart using the green 'Add To Cart' button
2. Click on the green "Go to your cart" button or the cart icon in the upper-right corner of any page
3. Add the coupon code SpringSale2022 and click the green Apply button. Click the payment option you wish to use. Don't forget, clicking on PayPal will allow you to pay with your debit or credit card without having a PayPal account. You will be checking out as a guest on PayPal, but are still eligible for their buyer protection.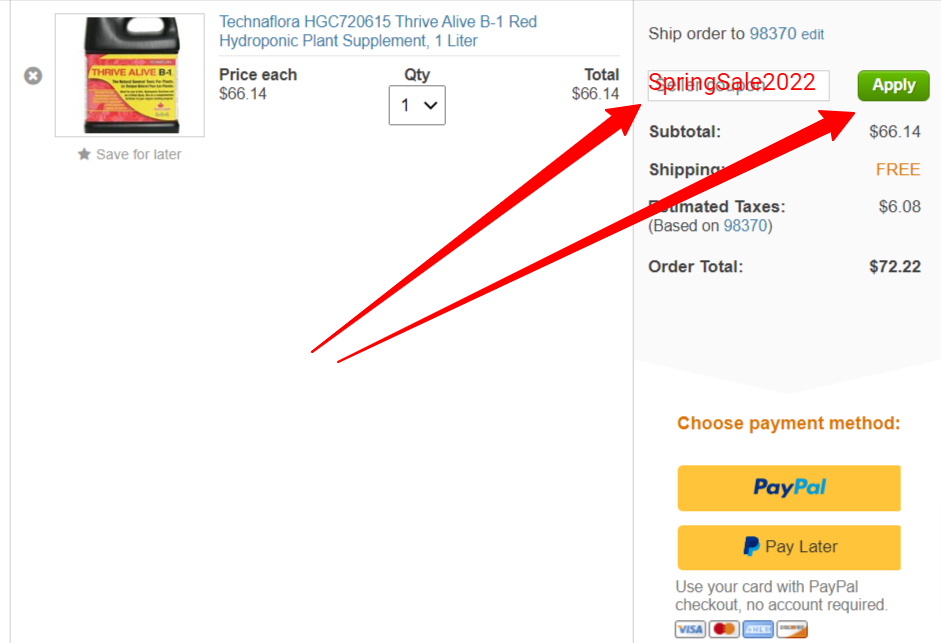 4. Enter your shipping and payment information in the pop-up window
5. Click the green 'Place your Order' button to complete the transaction
Not sure if you completed your order? Take a look at this page for instructions on how to confirm your order went through.
We've also posted a brand new video tutorial on the Bonanza YouTube channel, How to Place an Order.
We hope you have a fun and stress-free shopping experience on Bonanza!