The 'Once Upon A Time in Hollywood' actress is engaged to Jack Antonoff
May 30, 2022—Add Margaret Qualley's name to the list of actresses who openly wore their engagement rings and barely made a ripple in the press. (Others in the category include Zoë Kravitz and the Meghan Markle redesign.) To be fair, last week when Margaret publicly debuted the jewel in Cannes while promoting her film Stars at Noon, she was kind of hiding it.
During the photo call for the film—the actress who rose to fame after her role in Once Upon A Time in Hollywood and is the daughter of actress Andie McDowell and Paul Qualley—mainly kept her left hand in the pocket of her black Chanel pants. There are about two images where you can see the jewel. On the red carpet she wasn't exactly showing it off like some actresses do by putting her hand on her hip or flaunting it in front of the cameras. It was very hard to see
But fans noticed and the fine folks at People got confirmation from "a source." Not her reps, but "a source" confirmed she was engaged to Jack Antonoff, a song writer and record producer who has worked with several artists including Taylor Swift, Lana Del Rey and the Chicks. He is also lead singer of the Bleachers.
The jewel on the third finger of Margaret's left hand also falls into another celebrity engagement ring trend I have been tracking for a few years: the smallish celebrity engagement ring. Others who believe small is beautiful include, Emma Stone, Jennifer Lawrence and Rooney Mara. All in, it's a pretty chic crowd.
Margaret's ring is probably around 1-carat. Considering her petite frame and the fact that you can easily see the ring once her hand is visible, it has got to be at least that size. It is a great size in the real world, but smallish by celebrity standards.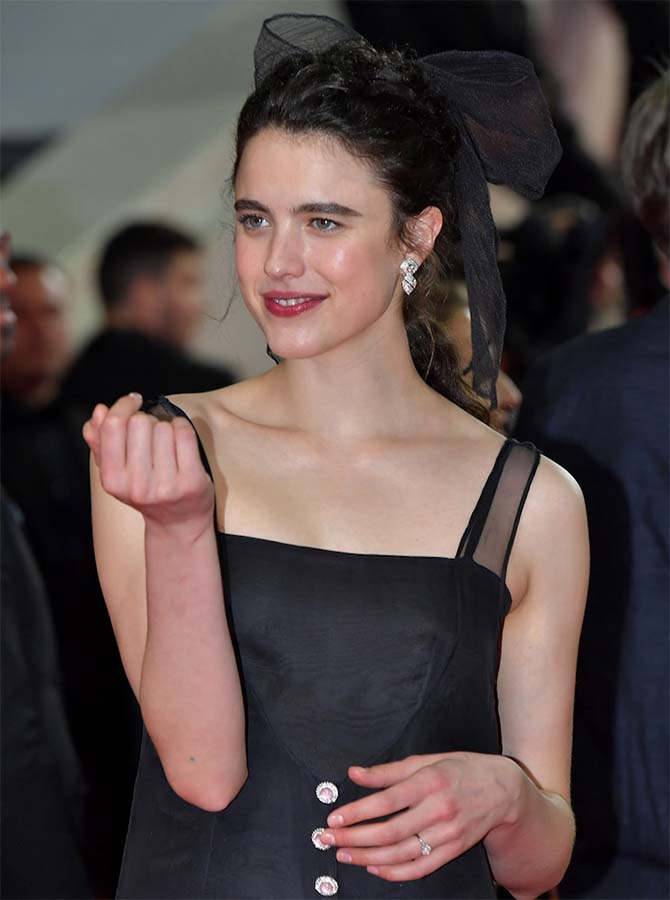 So, who made the ring that appears to be a round brilliant-cut diamond on a unembellished, most likely platinum, band?
My first thought was it might be Chanel simply because Margaret is an ambassador of the fashion house and wears their clothes and jewelry almost exclusively on the red carpet. But Chanel doesn't seem to have anything quite as classic as the design.
I thought for a moment it might be a Tiffany six-prong setting. But on closer inspection of the hard to see mounting, I don't think it is.
Honestly, it is anybody's guess who made it. If the designer is revealed this post will be updated.
Related Stories:
The Year of Smallish Celebrity Engagement Rings
The Unique Wedding Band a Beatle Gave His Bride
Ben and Jen Make Engagement Ring History Again
---
Marion Fasel

Source link