Agolde has become the gold standard for denim shorts. This year they've come out with some new styles including a version with cuffs. My Agolde Parker long shorts review includes sizing and styling tips.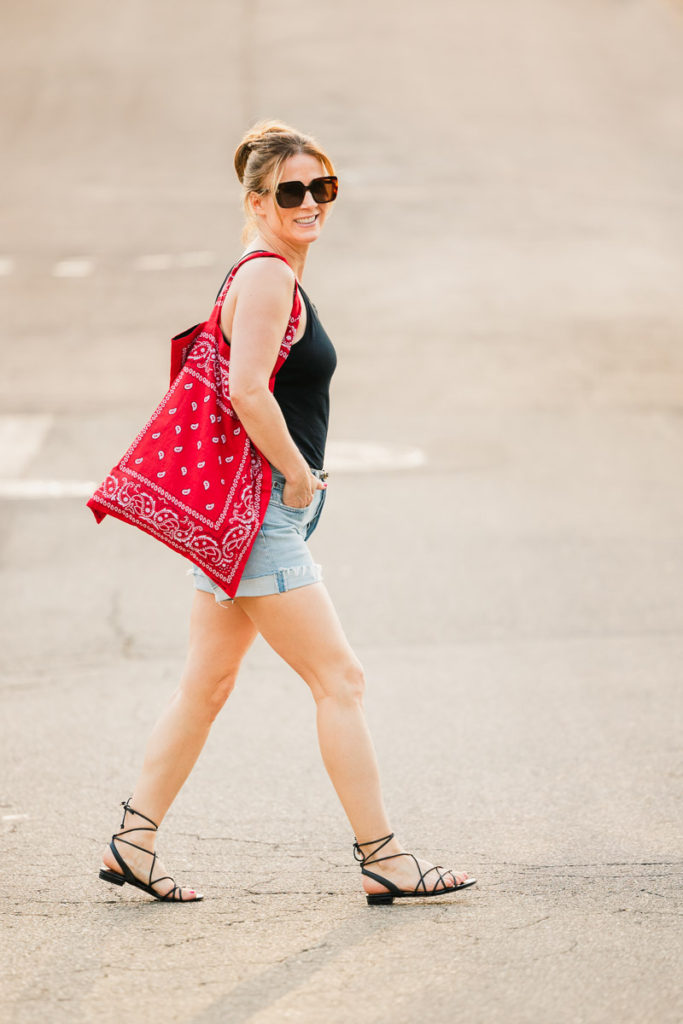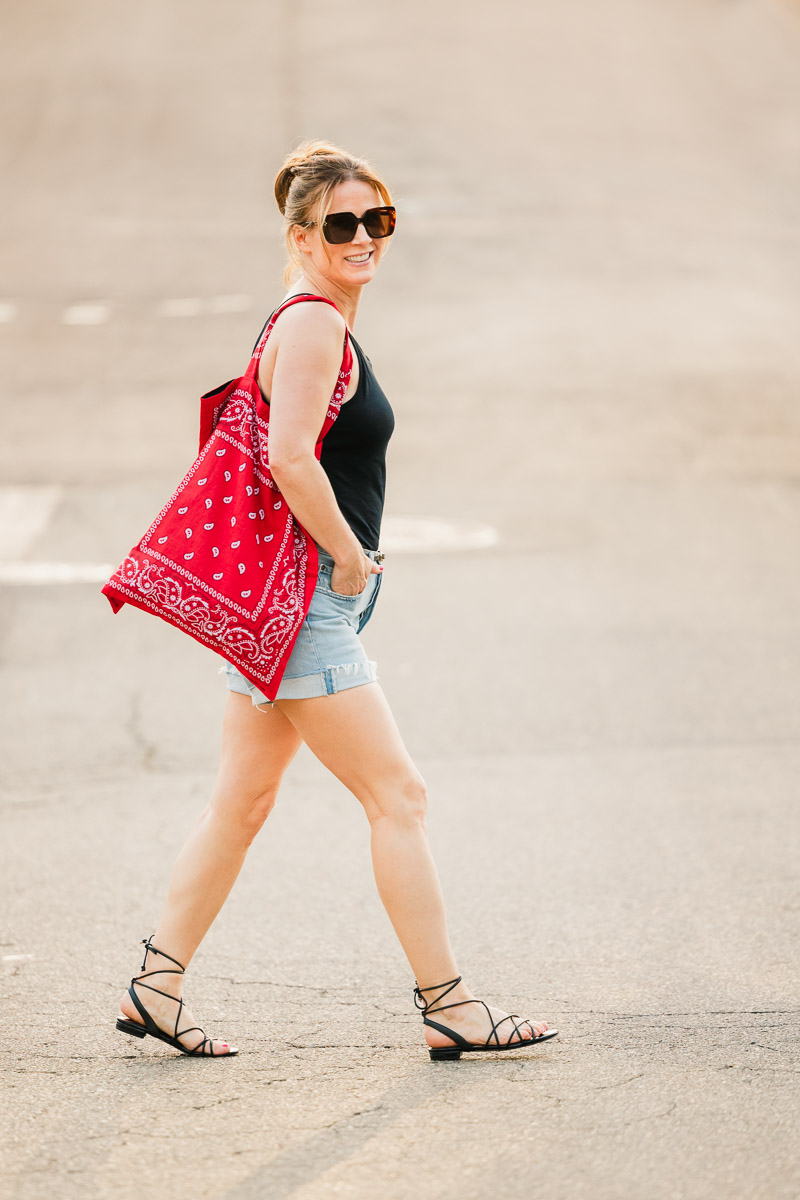 Shorts (up to 27) | Cami (up to M) | Belt | Bag | Sunglasses
Agolde Parker Long Shorts Review
Color Options
I created an Instagram reel showing the two new cuffed styles and colors in Covet and Heat Wave. I could give an argument for keeping both pair. Heat Wave is nearly identical to the Moussy shorts I bought last summer, so I am only keeping the Covet.
Agolde Parker Long Shorts Review
Sizing
I think these are true to size with other Agolde Parker styles. The image on the right is from last year and you can see how much shorter they are. The new Agolde Parker Long shorts with cuff are also more relaxed, which I'm loving.
Both of these are 27. I usually go between 26 and 27 depending on the brand and style, and usually size up in shorts. These have enough slouch without being sloppy.
I'm turning 50 this month and while I've loved shorter shorts forever, I'm finally choosing this slightly longer style. I cleaned out my closet over the weekend, and after trying on all my old shorter shorts, I've decided to get rid of them all. I just can't anymore!
Agolde Parker Long Shorts Review
How I'm Styling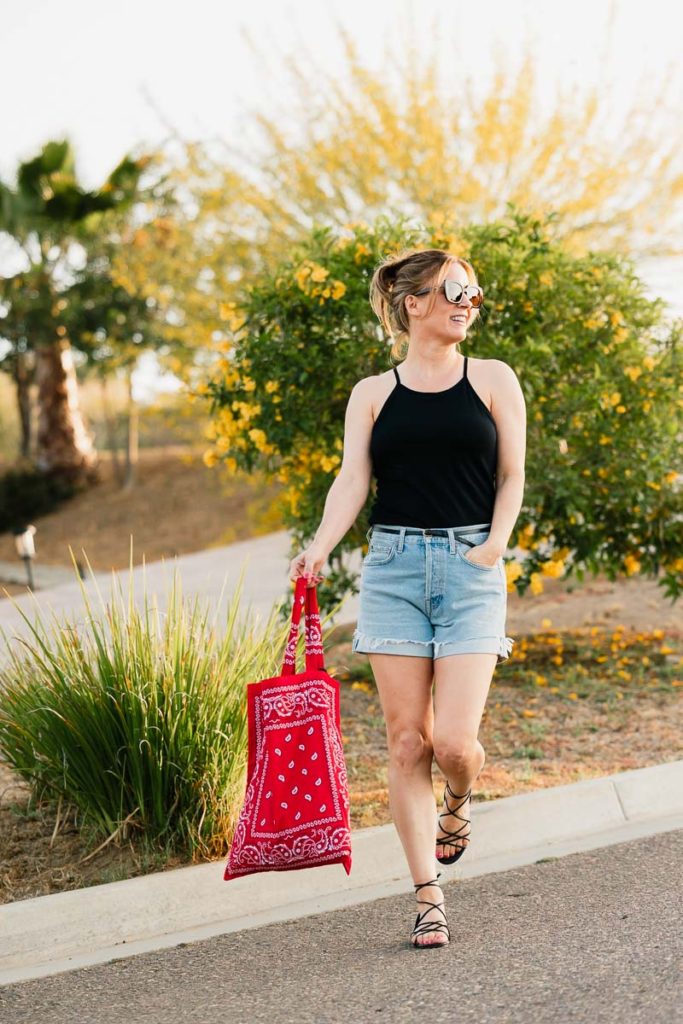 Shorts (up to 27) | Cami (up to M) | Belt | Bag | Sunglasses
I like to keep things simple in the warmer months. The easiest way to do that is by adding a few pieces that pop. In this case, I added a thin contrasting leather belt, a chic tank (mine has a shelf bra), and a fun bag. I will also be wearing all my graphic tees for that easy cool girl vibe.
Agolde Parker Long Shorts Review
Shop My Look

Agolde Parker Long (without cuff)

Strappy Sandal Picks

Similar Belts

My Affordable Short Picks!
Over the weekend, I tried on a bunch of Kut from the Kloth jeans and shorts, searching for affordable alternatives. The Chloe boyfriend shorts were my favorite, but I also tried the Catherine jeans and I'm linking both shorts below.

My Affordable Tank Picks!

Agolde Parker Long Shorts Review
Wrap-Up
I don't think you can beat Agolde Parker shorts. If you prefer a slightly longer style, the cuff isn't sewn so you can wear them long. They do have a slight flare vs the straight, more fitted Bermuda style. I prefer this because I don't love shorts being tight against my thighs.
I'll be wearing these all summer long and they have definitely become my favorite shorts!
x Tammy
Related Articles:
Best Summer Sandals 2022
Cute Summer Graphic Tees
Best Summer Bags 2022 – My Top 3
How Premium Denim Brand Agolde Challenges Industry Norms (sourcingjournal.com)

Tammy

Source link