Winter mountaineering and ski-alpinism are not sports to be taken lightly. They are absolutely beautiful but can also be dangerous. Especially if you're not properly equipped. Mountains may forgive small mistakes in the summer, but never during harsh winter. So be prepared for mountaineering: get training, stay fit, and be equipped for the conditions. As Jeremiah Johnson said: you can't cheat the mountain, pilgrim. Well, you really can't.
The Snoskiwoski 40 is one of the newest Mountain Hardwear packs made for the 2022 season, dedicated specifically for white mountaineering. I really like such a specialized pack.
This model was in my top 5 packs for 2022 (briefly reviewed in the Top 5 Active Packs article). But I'd like to share more thoughts and details about this interesting pack.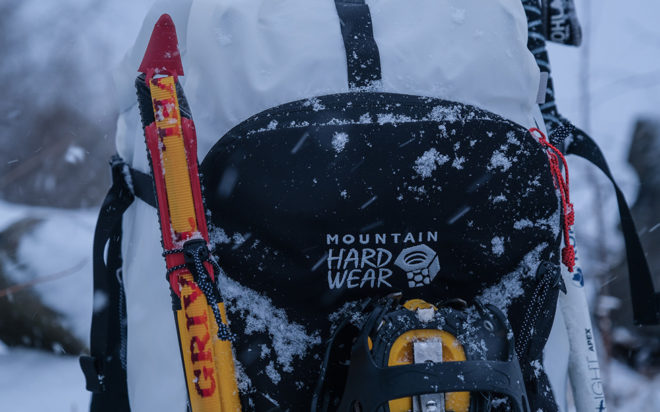 Who It Suits
Anyone who goes mountaineering during a cold season, when mountains are covered in snow, especially in winter. But the Snoskiwoski 40 works just as well in spring and autumn in high mountains. It's a great choice for ski-alpinism, full-day ski touring, free-riding, ice climbing, snow and rock scrambling, and other snow action sports. I'd say it could be an awesome snow patrol pack too for a rescue team member. It's just PERFECT for all that. 
Who It Doesn't
It's not a pack I'd take on any trip during the hot summer. Also, it's a specialized mountaineering pack so for bushcrafting, overlanding, and general traveling and hiking there are better choices on the market. It's a tool for a specific job.
The Good
It's a very handsome-looking alpine-style pack. Slim, tall, very clean on the outside, without any pockets or flaps sticking out. It looks all-business and it's a serious piece of gear indeed; it becomes obvious instantly when you put the Snoskiwoski on your back. The outer material is 210D high-tenacity ripstop nylon (recycled, which actually matters more and more for me). It looks white, but it's actually undyed for environmentally-friendly fiber production – well done. The bottom of the pack is made of 500D Cordura so it's tough and durable when in contact with ice and rock.
It is basically one big top-loading sack with a draw-cord top opening and integrated storm flap. The volume of 40 liters is big enough for a full day in the snowy mountains in any weather. There's additional side access too (via a weatherproof zipper); it comes in super handy when you carry skis in a classic alpine A-frame style, which restricts top access. Generally, side access is a big plus on a winter pack, when you might not be able to unload all the stuff to reach to the bottom in severe wind and snow. On the other side, there's a full-length integrated zipper pocket. It's dedicated to quick-access gear like an emergency jacket, thermal bottle, ski skins, extra gloves, or other gear. 
The inside is just one big cavity with a separate bladder sleeve. Yes, the Mountain Hardwear Snoskiwoski is fully hydration compatible. But, before using this feature make sure your actual hydration system is sub-zero rated with thermal insulation on the tube and an anti-freeze valve. Hydration is also a good option during warm and sunny alpine routes – trust me it is, I've done that before. There are multiple gear attachment points on the pack: daisy-chains, gear loops, crampon straps, side compression straps, ice-tool loops, and even reinforced A-frame ski loops on the sides.
There's also a simple but ingenious system that allows you to mount and cinch skis diagonally on the back without removing the pack. A godsend for ski-alpinists if they need to traverse a mixed area that is not possible to cross in skis – there's not always enough flat space to remove and put a pack down to mount the skis. The possibility to do it on the fly is an amazing feature.
The real hallmark of the Snoskiwoski is the big flat quick-access external pocket for an avalanche rescue kit (pictured below). Inside the pocket, you can see two open-bottom sleeves: one for an avalanche probe, the other one for a snow-shovel handle. The bottom of the pocket is tough enough for shovel blade carry. Of course, there's some more space for an emergency blanket or other stuff (if you don't want to use that pocket exclusively for rescue gear). Plus there's a small zipper pocket, good for a small IFAK or a backup headlamp. The avalanche pocket is made of a 500D Cordura for enhanced durability. It's also additionally padded on the outside, so there's enough separation between avalanche gear and skis if you carry them diagonally – exactly across the pocket.
This pocket can be a true life-saving feature since a rescue action after an avalanche is mainly about time. Statistically, during the first 15-18 minutes the probability of saving the covered people is about 90% (if they have even a minimum breathing area around the mouth). But after 30 minutes this ratio drops down to only 25% – so time equals life in this case and with the Snoskiwoski you can grab life-saving gear instantly.
The suspension is another ingredient that makes the Mountain Hardwear Snoskiwoski such a good choice for winter. The shoulder straps are comfy and functional. They're filled with double-density foam for comfort and are ergonomically shaped. They are also long enough to carry the pack on heavy winter layers and are equipped with load lifters, a sternum strap, and gear attachment loops.
The waist belt is well padded too, with exactly the same material as the shoulder straps. It's wide enough to transfer a big portion of the pack's weight to the hips – exactly what a hip belt on a full-size pack should do. You'll find a climbing gear loop on one side and an elastic zipper pocket for essentials on the other (perfect for a headlamp, multitool, or other handy stuff). The belt is removable, which is good if you'd like to use the pack for winter climbing. But for dynamic winter action like skiing (considering 40L capacity) I'd leave it on the pack, even just for stability.
The Mountain Hardwear Snoskiwoski has a built-in aluminum frame with an additional (and removable) high-density foam back panel frame sheet. The padding is quite thin and not as soft as on classic trekking packs, which is a good thing in a winter backpack. The back material is just nylon, without any kind of mesh. So it's exactly what you want on a snow sports pack – it doesn't collect snow, is easy to clean, and stays dry.
Just remember – it's also your base layer and insulation, which works as padding in the winter. It is the wicking effect of proper layering that protects you from sweat build-up on your back; not a mesh or bungee back panel, which are great for summer of course. And that's exactly what makes the Snoskiwoski a true winter pack; not a white color scheme or overall look, but this purpose-driven harness system and some ski-specific features.
Not So Good
This pack is almost perfect so there's not much to make it better. Still, there are some minor things that could be improved in the next generation. Ice ax mounting loops leave the pick fully exposed. On ultralight minimalistic packs that is okay. But on a dedicated ski mountaineering pack, I'd prefer to have sort of protective webbing strips or even a sleeve for the ice ax head so that the ice tools are flush with the pack. I've seen that on some other packs (like the Arc'teryx Alpha AR35 or Patagonia Ascensionist 45). That would protect the skis (in a diagonal back carry) from contact with steel elements. This also increases safety for people around you.
Another thing (and it's real nitpicking) is the G-hook which closes the pack. May I suggest making that hook a bit deeper? The way it is made now, it can sometimes unhook if the pack is not cinched really well with enough tension. It's hard to call these two flaws, but rather some areas for improvement.
Verdict
I've used this pack quite a bit. Not only in good weather but as you can see also in a blizzard and some really nasty conditions. I checked it for general mountaineering, and it did just fine. But also I used it for skiing (including ski carry, of course) and I was not able to find any major flaw in both design and craftsmanship. Sure, it's not a cheap pack so expectations are high, but it really can help to get through the day in severe winter weather. It is feature-rich but not over-engineered. This pack just works!
The Mountain Hardwear Snoskiwoski is made with premium materials, fully snowproof, comfy, and lightweight. Actually, at just 1100 grams I'd say it is a super light pack considering the construction, which includes an aluminum frame, 500D Cordura reinforcements, and a lot of straps and buckles to attach winter mountaineering gear. Assuming skis are in your arsenal of mountain tools, this is one of the best snow mountaineering mid-size packs out there in my opinion. For sure the best I've actually tested. 
Frankly speaking, it might be considered a really flawless pack for its intended use, and that's the power of specialized products. There's no need to be a 'jack of all trades' if the tool (or the pack in this case) is really purpose-built. It's a professional pack for conscious mountain enthusiasts. 

Piotr Ma

Source link